Ordering Information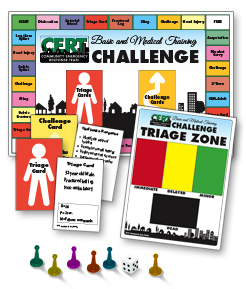 View larger image of the kit.
CERT Basic and Medical Training Challenge Game–$29.95

How to purchase
To place your secure order online, select the Add to Shopping Cart button, to order by phone, call (888) 386-8226, e-mail us at , or visit our Order Information page for additional information.
You can also download the order form, fill it out and fax it to (831) 462-1129.
Call (888) 386-8226 for bulk order pricing.
---
More CERT Products:
CERT Basic and Medical Training Challenge Game
Since 1987, CERT has become a well known program that trains citizens to be more self sufficient following disasters. A common challenge for many CERT programs is keeping their volunteers engaged and their skills honed! Through passion and appreciation for the added value that CERT volunteers bring to their communities, this game was developed to bring "fun" into practicing some of those skills.
My desire is that you enjoy playing it as much as I enjoyed developing it!
—Stacy Gerlich
Training Coordinator/Instructor at Los Angeles World Airports (LAX). Serving as an EMS Captain assigned to Homeland Security Division-Alliance, LAFD. Former CERT Commander of LAFD CERT.
The CERT Basic and Medical Training Challenge game, developed by Stacy Gerlich, is intended to keep CERT skills sharp and information at the ready. In a controlled environment, participants roll a die and move a game piece around the board. The space landed on either requires performing a skill on another player of choice or to "challenge" another player to correctly answer a question related to CERT training.
Game includes:

View larger image of the game.
1 Basic and Medical Training Challenge game board
1 Triage Zone game board
1 set of Challenge cards. Challenge categories include CERT, fire, medical, preparedness, and search and rescue
1 set of Triage cards showing RPM patient values
1 die
6 game pieces
1 game instructions
You might also be interested in these CERT products.

CERT Hazard Annex Lesson Plans with
13 Customizable Disaster Posters