Ordering Information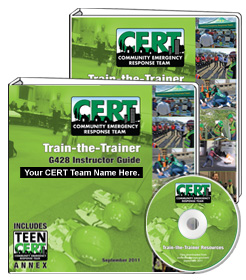 2011 CERT Train-the-Trainer Course
How to purchase
To place your secure order online, select the Add to Shopping Cart button, to order by phone, call (888) 386-8226, e-mail us at , or visit our Order Information page for additional information.
You can also download the order form, fill it out and fax it to (831) 462-1129.
Call (888) 386-8226 for bulk order pricing.
---
More CERT Products:
2011 CERT Train-the-Trainer Course Materials
The Federal Emergency Management Agency (FEMA) recognizes the importance of preparing citizens. The Emergency Management Institute (EMI) and the National Fire Academy adopted and expanded the CERT materials believing them applicable to all hazards.
Using the official 2011 files, ToucanEd has organized the CERT Train-the-Trainer Course materials into binders, and a CD that are ready to go. We will put your CERT team name on the covers at no cost.
Instructor Guide ($44.95)

Kit contents:

1.5-inch binder with tabs
Customized color cover for your CERT team
18 Training Units with PowerPoint slides
Includes Teen CERT Annex

1 CD containing the following:

Instructor Guide with 18 Training Units
(PDF format)
18 Training Unit PowerPoints
Participant Manual with 18 Training Units
(PDF format)

Participant Manual ($19.95)

Kit contents:

1-inch binder with tabs
Customized color cover for your CERT team
18 Training Units
Includes Teen CERT Annex
You might also be interested in these CERT products.

CERT Hazard Annex Lesson Plans with
13 Customizable Disaster Posters