Ordering Information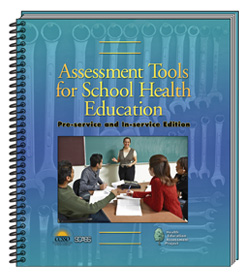 Participant Guide $39.95

Participant Guide eProduct Download $14.95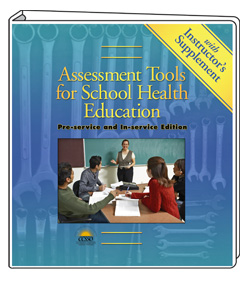 Instructor Guide $54.95

How to purchase
To place your secure order online, select the Add to Shopping Cart button, to order by phone, call (888) 386-8226, e-mail us at , or visit our Order Information page for additional information.
You can also download the order form, fill it out and fax it to (831) 462-1129.
Call (888) 386-8226 for bulk order pricing.
Assessment Tools for School Health Education
Pre-service and In-service Edition
Participant Guide
Whether you're a teacher candidate or a seasoned instructor wanting in-depth information on applying assessment strategies in the classroom, Assessment Tools for School Health Education provides a comprehensive resource for school health assessment. With an emphasis on performance-based assessment, this guide offers a solid foundation in school health assessment. It demonstrates the linkages among standards, assessment, curriculum, and instruction for continuous improvement in learning and instruction.
Each guide includes:
HEAP Assessment Framework, which provides guidelines for developing assessment items
HEAP scoring rubrics
definitions and examples of performance-based assessment
examples of student work that have been scored according to HEAP's rubrics
a sample lesson that relates to the assessment system
exercises to enhance learning
suggested readings
Instructor Guide
This Instructor Guide is designed to help educators, including school district curriculum coordinators and higher education faculty, use Assessment Tools for School Health with teachers so they can apply principles to classrooms. It can be used for professional development both for educators who are currently teaching school health education and for those who are preparing to teach it.
The Assessment Tools for School Health Education Instructor Guide focuses on how to teach assessment in standards-based, skills-based health education.
Using this resource, educators will be able to:
analyze the components of performance-based assessment in the classroom
evaluate how assessment informs instruction in health education
describe the National Health Education Standards
synthesize performance tasks for use in the classroom
develop skills for scoring student work
Using the Instructor Guide, trainers and educators will find training strategies, resources, and assignments for each chapter in the Participant Guide.
You might also be interested in these HEAP products.