Ordering Information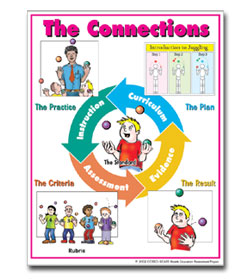 View larger image.
The Connections Poster $7.50
Poster size 17" x 22"

How to purchase
To place your secure order online, select the Add to Shopping Cart button, to order by phone, call (888) 386-8226, e-mail us at , or visit our Order Information page for additional information.
You can also download the order form, fill it out and fax it to (831) 462-1129.
Call (888) 386-8226 for bulk order pricing.
The Connections Poster
This professional development tool helps educators make the connection between assessment and achievement of National Health Education Standards.
The Connections/Jugglers Poster uses a juggling analogy to illustrate the process for using assessment to develop curriculum, guide classroom instruction, assess performance, and evaluate results. Whether teaching juggling or health education skills, assessment is the key to helping educators guide improvements in education planning and delivery.
The poster depicts a continuum in which standards, curriculum, instruction, and assessment work together 1) to ensure that students achieve health literacy and 2) to provide an effective tool to direct future health education policy.
Colorful and engaging, this poster effectively illustrates the relationships among standards, curriculum, instruction, and assessment.
You might also be interested in these HEAP products.