Ordering Information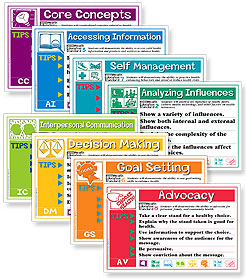 View larger image.
Assessment Skill Posters for the Classroom $25.00

How to purchase
To place your secure order online, select the Add to Shopping Cart button, to order by phone, call (888) 386-8226, e-mail us at , or visit our Order Information page for additional information.
You can also download the order form, fill it out and fax it to (831) 462-1129.
Call (888) 386-8226 for bulk order pricing.
Assessment Skill Posters for the Classroom
Eight student-centered Classroom Skill Posters are designed for classroom display. Each of these eye-catching posters gives students tips for mastering a specific health education skill as defined by the National Health Education Standards. Updated to match the revised 2006 standards.
These posters come in one set of eight 11" X 17" each pertaining to the following content areas:
Core Concepts
Accessing Information
Self Management
Analyzing Influences
Interpersonnal Communication
Decision Making
Goal Setting
Advocacy
The Classroom Skills posters are color-coordinated with the sets of Rubric Cards.
Also available:
You might also be interested in these HEAP products.