Ordering Information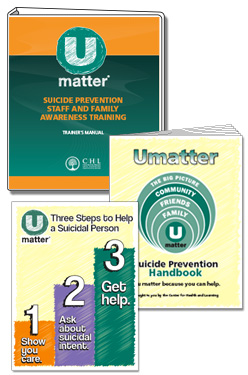 Look inside...
Umatter Suicide Prevention Staff and Family Awareness Training–$49.95

Item # UmatterTraining
Umatter Handbook
(Pack of 10)–$60.00

Item # UmatterHandbook
How to purchase
To place your secure order online, select the Add to Shopping Cart button, to order by phone, call (888) 386-8226, e-mail us at , or visit our Order Information page for additional information.
You can also download the order form, fill it out and fax it to (831) 462-1129.
Call (888) 386-8226 for bulk order pricing.
Umatter Suicide Prevention Staff and Family Awareness Training
This unique training program provides you everything you need to present a 1.5 hour Suicide Prevention Awareness Session to school staff, family and caregivers. It can be used as a standalone or as part of the Umatter for Schools Suicide Prevention, Umatter for Community Professionals Suicide Prevention and Umatter Public Information programs. Umatter for Schools has been designated a National Best Practice Program by AFSP. For more information on Umatter see: www.healthandlearning.org/suicide-prevention/
Why "Umatter™"?
This program provides the message that feeling stressed, down, and/or depressed is a common experience in life. Reaching out for help from someone you feel safe with, or to a professional is a healthy response. When trauma occurs it is especially important. The message is: "You matter because you may need help at some point in your life." And "You matter because you may be in a position to help." This program provides information for people who can help.
This training includes:
School and Community Strategies for Suicide Prevention
Risk Factors, Warning Signs, and How to Help
Educating Youth about Suicide Prevention
Recognizing and Helping People at Risk
School Suicide Intervention Protocol
Responding to Difficult Comments
Kit includes:

Look inside...
One Binder with all training materials and four modules, Comprehensive Facilitator Notes and Learning Activities
One Umatter Handbook This resource is provided to participants as a handout and provides comprehensive information about suicide prevention. It can be used with the program or as a stand-alone. Additional copies can be ordered separately add to cart.
One Thumbdrive with slides and reproducible handouts
One Resources and handouts in hard copy
One Umatter - Three-Step Intervention Process 8½" X 11" poster See larger image.
For more information about programs and training opportunities for Umatter in your state or district, contact: info@healthandlearning.org.


You might also be interested in these other kits.