Ordering Information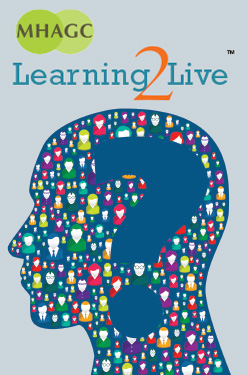 View larger images of kit contents.
Learning2Live™ Mental Health Program Curriculum
Complete Learning2Live™ 8 Module Series: $425.00 ($125 in savings)
Item # L2Lcomplete

Individual Modules: $79.00 each
How to purchase
To place your secure order online, select the Add to Shopping Cart button, to order by phone, call (888) 386-8226, e-mail us at , or visit our Order Information page for additional information.
You can also download the order form, fill it out and fax it to (831) 462-1129.
Call (888) 386-8226 for bulk order pricing.
Learning2Live™ Mental Health Program Curriculum
The Learning2Live™ (L2L™) Program Curriculum addresses important mental health topics. The series is comprised of 8 curriculum guides which are research-based and tested for teaching teens and young adults about mental health. Designed by a professional curriculum developer, psychologist, principal, and teacher, each lesson has a purpose, goal, and objectives addressing knowledge, reducing stigma, and social responsibility.
The curriculum includes anticipatory sets, instructional strategies, and activities. The instruction and activities meet the social emotional standards (SEL) as adopted by the boards of education in 48 states.
Each guide comes with a CD of topic specific L2L™ program exercise materials, and videos. The teacher guides include talking points and are easy to follow and can be used by educators to facilitate mental health classes.
Each module also includes a segment by the Kindness Revolution geared towards students Grade 7-12. This module includes tenet facts, discussion questions, and activities to teach students more about dignity, respect, courtesy, and kindness.
The L2L series is comprised of 8 modules (includes subject specific CD):
Currently available:
Mood Disorders and Suicide Prevention

View cover image and sample pages.

Anxiety Disorders

View cover image and sample pages.

Item # L2Lmood

$79.00 ea

Topics Covered:

Mental Health Overview
Depression
Bipolar Disorder
Suicide Prevention
The Kindness Revolution

Item # L2Lanxiety

$79.00 ea

Topics Covered:

Mental Health Overview
Anxiety
Posttraumatic Stress Disorder (PST)
Obsessive Compulsive Disorders (OCD)
The Kindness Revolution

Human Relations and Group Dynamics

View cover image and sample pages.

Supporting Lifelong Mental Health

View cover image and sample pages.

Item # L2Lrelations

$79.00 ea

Topics Covered:

Mental Health Overview
Human Relations and Group Dynamics
Peer Relations
Communication and Effective Listening
Conflict and Conflict Resolution
The Kindness Revolution

Item # L2Llifelong

$79.00 ea

Topics Covered:

Mental Health Overview
Dealing with Transition
Stress
Coping with Grief
Nutrition and the Brain
Diversity
The Kindness Revolution
Coming Soon:
Behavioral and Personality Disorders
Attempts to Control
Physical Issues and Mental Health
Severe Mental Health Issues