Ordering Information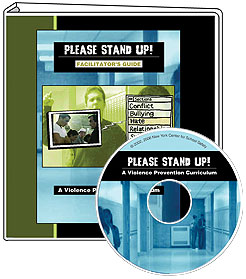 Please Stand Up! A Violence Prevention Curriculum
Basic Binder–1 binder and 1 facilitator's CD which include the activity sheets
$179.95
Basic Binder plus 10 pack–includes the Basic Binder plus 10 CDs
$279.95
Basic Binder plus 20 pack–includes the Basic Binder plus 20 CDs
$379.95
Basic Binder plus 40 pack–includes the Basic Binder plus 40 CDs
$549.95
Download Class Registration Form
(PDF Document).
To order a site license for your state, county, district, or other high volume use, please call (888) 386-8226, or e-mail us at .
Call us for bulk order pricing.
How to purchase
To place your secure order online, select the Add to Shopping Cart button, to order by phone, call (888) 386-8226, e-mail us at , or visit our Order Information page for additional information.
You can also download the order form, fill it out and fax it to (831) 462-1129.
Call (888) 386-8226 for bulk order pricing.
Please Stand Up! A Violence Prevention Curriculum
Video Sample Sections
Sample video and audio quality has been reduced for quicker viewing.
Transcript Sample Sections
Please Stand Up! and its Facilitator's Guide were produced to assist school districts in addressing the issue of interpersonal violence. The user-friendly CD also complies with the federal No Child Left Behind mandate for the success of every child.
For more information, please visit www.pleasestandup.org
Do you want to stop conflict, bullying, gangs, and other forms of violence in schools?
Could you use a tool to help schools, law enforcement, and families work together to prevent violence?
Do students need help communicating their fears and knowledge about potential violence?
Then this proven communication and tactical tool created by youth for youth can start helping your community today!
The New York Center for School Safety brings you Please Stand Up! A Violence Prevention Curriculum. This binder and CD can be purchased separately or are part of our one-day Please Stand Up! trainings. Through this effective and powerful interactive CD-ROM featuring student actors in realistic scenarios, you and your whole community will learn how to take a stand against conflict, bullying, hate, relationships, suicide, gangs, and weapons, and become empowered to make a difference. This comprehensive, realistic curriculum for middle and high school students provokes thought and discussion. And gets results. Lessons focus on the necessity of full community responsibility and participation.
Research-based.
The lessons are based on scientific research; many of the vignettes have undergone evaluative measures used by the U.S. Department of Education and/or the Centers for Disease Control and Prevention.
Skills-based.
Valuable skills including resistance and self-direction are taught throughout the lessons, effectively reducing both the likelihood and the adoption of problem behaviors.
Learning standards-based.
All activities meet New York State standards, which align with national standards for middle and high school students in health education, social studies, science, math and technology, and English language arts. Users in any state that aligns its content standards to national standards will find it compatible with their academic goals.
"Do Something" or "Do Nothing"
At the end of each vignette, a rap session featuring a group of students discussing the issues compels the viewers to "Do Something" or "Do Nothing." Student lessons reinforce the message. Students learn there is no such thing as an innocent bystander. Knowing something means making a decision about what to do.
Please Stand Up! Anti-violence Training
Developed by the prestigious New York State Center for School Safety, this full- or half-day training covers the important topics of conflict, bullying, hate, relationships, suicide, gangs and weapons.
Download the Please Stand Up! Training Registration Form (PDF document).


You might also be interested in these other bully prevention kits.