Ordering Information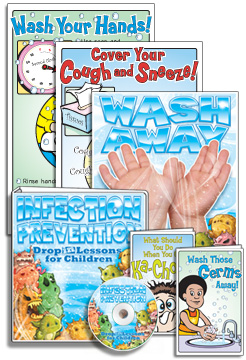 View larger image of the kit.
Infection Prevention Drop-in Lessons for Children–$49.95

How to purchase
To place your secure order online, select the Add to Shopping Cart button, to order by phone, call (888) 386-8226, e-mail us at , or visit our Order Information page for additional information.
You can also download the order form, fill it out and fax it to (831) 462-1129.
Call (888) 386-8226 for bulk order pricing.
Laminated Poster Pricing
1–10 for $9.95 each
11 or more for $7.95 each
Poster sizes are 11" X 17"
Pamphlet Pricing
Sold in packages of 25.
1–4 packs for $9.00 (.36¢ each)
5–20 packs for $8.25 (.33¢ each)
21–39 packs for $7.50 (.30¢ each)
40 or more packs for $6.75 (.27¢ each)
Pamphlets and posters are available in Spanish.
Infection Prevention Drop-in Lessons for Children
These engaging lessons teach effective ways to help stop the spread of germs. Topics address hand washing, covering coughs, and staying home when sick. There are two lessons appropriate for young children grades K to 2 and two lessons appropriate for grades 3 to 5. They are suitable for school settings, after-school programs, daycare centers, home schooling, or anywhere children gather regularly for supervised activity.
Kit contents:

View larger image of the kit.
1-inch full-color binder
Three 11" x 17" posters:

Wash Your Hands!
Cover Your Cough and Sneeze!
Wash Away the Germs

Two Pamphlets (in sets of 6):

What Should You Do When You Ka-Choo?
Wash Those Germs Away!

CD with printable activity sheets and family materials
What others are saying about the kit.

"The Infection Prevention Drop-in Lessons are a perfect way to integrate and emphasize important key messages about cold and flu prevention. I integrated two lessons from the upper elementary section and they were well-received by the students and teacher. The students were attentive, engaged and very enthused about learning about infection prevention."

—Susan Russell, DrPH
Valencia, CA

"The kids totally enjoyed it and learned many things. Thanks for helping "health" educate my class. Three of the families I met with (at parent teacher conferences) told me how their child came home and told them all about disease prevention! I was so excited that they had transference from your lesson and they enjoyed it so much!"

Second grade teacher
Valencia CA
You might also be interested in these other infection prevention posters and kit.