Ordering Information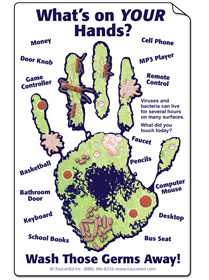 View larger image of the sticker.
Germy Hand Sticker
For Glass and Other Surfaces

Sticker Pricing
Packaged in set of 50.
1–9 packages: $75 per package
10–19 packages: $65 per package
20+ packages: $60 per package
How to purchase
To place your secure order online, select the Add to Shopping Cart button, to order by phone, call (888) 386-8226, e-mail us at , or visit our Order Information page for additional information.
You can also download the order form, fill it out and fax it to (831) 462-1129.
Call (888) 386-8226 for bulk order pricing.
Germy Hand Sticker For Glass and Other Surfaces
Our now-familiar Germy Hand is available as a 5½" x 8½" sticker for glass, mirrors, and other surfaces. They stick securely, and are removed easily. Place them wherever they will be seen—offices, restrooms, work stations, break areas, gymnasiums, libraries, classrooms, and waiting rooms. They will also be effective reminders when placed in buses and hallways.
This colorful, creepy hand is crawling with reminders of 15 commonly-touched surfaces where germs lurk. From door knobs, money, and faucets to game controllers, cell phones, and basketballs—everyone will be itching to get their hands clean.

GSA approved. Schedule GS02F0068T.

You might also like...