Ordering Information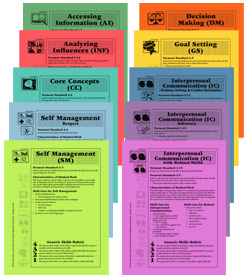 View larger image.
Vermont Assessment Rubric Cards $12.00
One set of Assessment Rubric cards has 10 laminated color coordinated cards.

How to purchase
To place your secure order online, select the Add to Shopping Cart button, to order by phone, call (888) 386-8226, e-mail us at , or visit our Order Information page for additional information.
You can also download the order form, fill it out and fax it to (831) 462-1129.
Call (888) 386-8226 for bulk order pricing.
Vermont Assessment Rubric Cards
Rubric Cards help teachers assess growth in health education concepts and skills. A set of ten Rubric Cards contains the rubrics used in the Health Education Assessment Project (HEAP). They provide criteria linked to the National Health Education Standards, including skill cues and characteristics of student work.
These Rubric Cards come in one set of ten 8.5" X 11" each pertaining to the following content areas:
Self Management
Self Management (Respect)
Core Concepts
Analyzing Influences
Accessing Information
Interpersonal Communication with Refusal Skills
Interpersonal Communication (Advocacy)
Interpersonal Communication (Problem Solving and Conflict Resolution)
Goal Setting
Decision Making
The Vermont Rubric Cards are color-coordinated with a set of ten student-centered Vermont Classroom Skills posters.