Ordering Information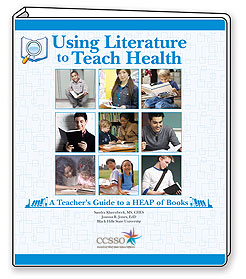 Using Literature to
Teach Health $39.95

How to purchase
To place your secure order online, select the Add to Shopping Cart button, to order by phone, call (888) 386-8226, e-mail us at , or visit our Order Information page for additional information.
You can also download the order form, fill it out and fax it to (831) 462-1129.
Call (888) 386-8226 for bulk order pricing.
Using Literature to Teach Health
A Teacher's Guide to a HEAP of Books
Created by a dynamic team consisting of a health education specialist and a reading specialist, this resource helps teachers promote both reading literacy and health literacy.
Improving the health of today's school children is of the utmost importance. Building reading literacy and health literacy in today's student population is critical to empower students to take charge of their own lives.
This teacher-friendly handbook offers a resource for classroom teachers by identifying specific books to use when planning, teaching, and discussing health content topics and health skills. The recommended book selections in this K–12 collection have been used by both health and reading literacy educators.
complements the earlier HEAP resource "Aligning Health and Reading with a HEAP of Books"
helps teachers align literature with health content and health skill standards
You might also be interested in these HEAP products.