Ordering Information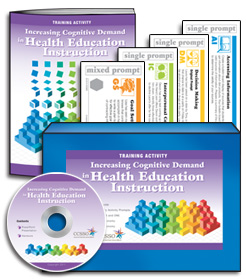 View larger image.
Increasing Cognitive Demand in Health Education Kit $64.95

How to purchase
To place your secure order online, select the Add to Shopping Cart button, to order by phone, call (888) 386-8226, e-mail us at , or visit our Order Information page for additional information.
You can also download the order form, fill it out and fax it to (831) 462-1129.
Call (888) 386-8226 for bulk order pricing.
Increasing Cognitive Demand in Health Education
The training kit (Cog Sets) contains sets of assessment items that are arranged in increasing complexity and are aligned to the National Health Education Standards (NHES). Through HEAP meetings, members have created items demonstrating cognitive complexity progressions based on Bloom's Revised Taxonomy (BRT). The kit includes procedures and materials needed for training teachers and prospective teachers. This kit can help teachers develop more cognitively demanding instructional activities and assessments that improves students' critical thinking skills.
Each training kit contains:
1 Training Activity Guide
6 Cognitive Complexity Activity Prompt Sets
1 CD with PowerPoint and PDF Versions of Handouts
6 Bloom's Revised Taxonomy
6 Cognitive Complexity Glossary of Terms
6 The Taxonomy Table
6 Skill Cues, (AI, IC, GS, and DM)
You might also be interested in these HEAP products.