Ordering Information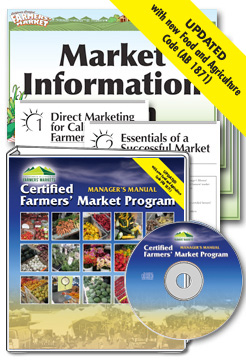 Take a look inside.
Certified Farmers' Market Manager's Manual–$34.95
Item # 3CDFA_CFM_Manager's_Manual

How to purchase
To place your secure order online, select the Add to Shopping Cart button, to order by phone, call (888) 386-8226, e-mail us at , or visit our Order Information page for additional information.
You can also download the order form, fill it out and fax it to (831) 462-1129.
Call (888) 386-8226 for bulk order pricing.
Certified Farmers' Market Manager's Manual
UPDATED to include new legislation: CA Food and Agriculture Code (AB 1871)
"I am thrilled to have this encyclopedia of all things CA farmers' market at my side even after 20 years of being a manager. Regulations, rules, templates and perspective are all at my fingertips. If I'd had this incredible tool when I started, it would have saved me so much angst (and work). This book has helped me try new things as well as refresh old knowledge. I keep it near my desk and open it often."
Diana Rodgers
Manager Mar Vista Farmers' Market
CDFA CFM Advisory Committee
ToucanEd developed the Certified Farmer's Market Manager's Manual for the California Department of Food and Agriculture (CDFA), which was funded by a federal grant. This user-friendly manual provides managers of certified farmers' markets with the information and tools they need to comply with state regulations, boost overall market success, and help protect market integrity. We are an authorized distributor for this product.
Manual contents:

Take a look inside.
Table of Contents of Manual

Direct Marketing for California Farmers
Essentials of a Successful Market
Doing Business
Market Integrity
Informational Tools and Tips
Resource Section

8.5" x 11" full color posters (set of 14) View example posters.

Samples of posters:

Thanks for Shopping with us Today
Market Information Booth
No Smoking
First Aid
We love pets, but can't have them here. No dogs or Any Animals

CD with electronic version of the manual, printable resources including forms, templates, maps, poster print files, flyer and sign templates and an art bank. View CD component.
You might also be interested in these other kits.